Union Government approves 17 Mega Food Parks
Union Government approves 17 Mega Food Parks
Date: March 25, 2015
Mega Food Park Scheme cluster approach food processing
Centre approves 17 mega food parks to states, private firms
Union Government's Ministery of Food Processing has approved 17 mega food parks for food processing across the country. Out of 72 proposals received, The ministry approved 17 food parks from both state governments and private players. 7 mega food parks have been allocated to state governments and 10 to private sector. Punjab, Haryana, Andhra Pradesh, Telangana, Odisha, have been allocated one food park each, while Kerala government has been allocated 2 food parks. Adani Ports, Jain Agro Trading Company and Ruchi Acroni Industries are among 10 private players who have been allocated food parks by the Centre. The estimated cost of these 17 mega food parks is Rs 2,030 crore, of which the government's contribution would be of Rs 850 crore.
Mega Food Parks-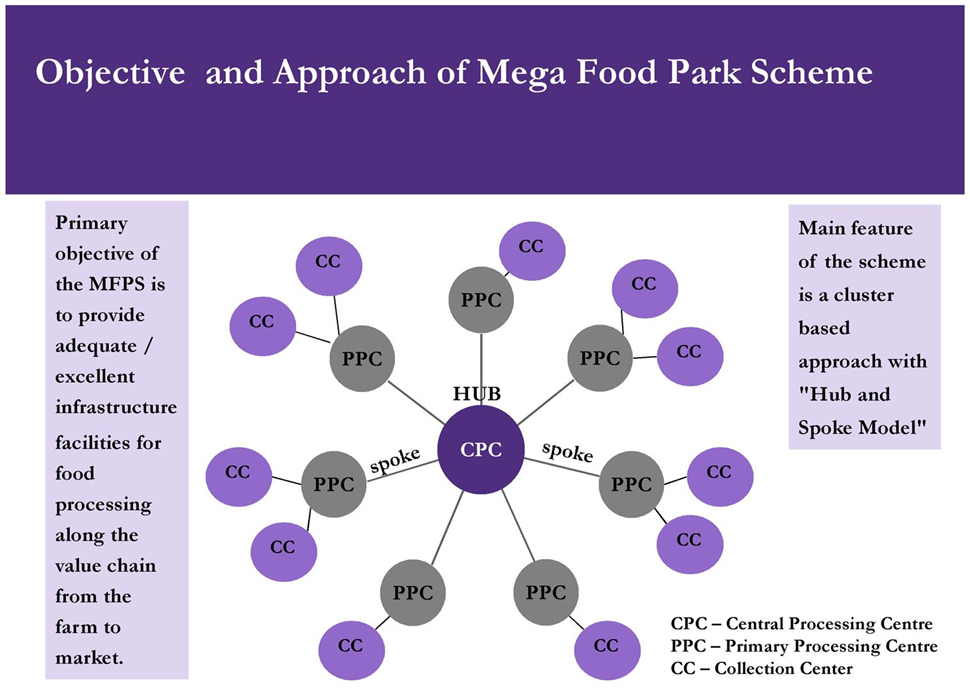 The Mega Food Park Scheme is based on cluster approach. It is modelled on hub and spoke architecture. It's objective is to facilitate the establishment of a strong food processing industry backed by an efficient supply chain, which is an efficient collection of collection centres, central processing centre (CPC) and cold chain infrastructure.A mega food park provides various facilities to food processors, farmers, retailers and exporters, helping achieve faster growth of food processing industries
The Mega Food Park scheme envisages one time capital grant of 50 per cent of the project cost (excluding land cost) subject to a maximum of Rs 50 crore in general areas, and 75 per cent of the project cost (excluding land cost) subject to a ceiling of Rs 50 crore in difficult and hilly areas, including the North-East and J&K.